We have some very exciting news to share with everyone participating in this year's event.
Logan Sherman, winner of the MetroPCS Dallas Half Marathon will be the Elite Guess Runner for the Dallas Loop-the-Lake New Year's Eve run.  Come out to meet him and test your speed against Dallas' fastest.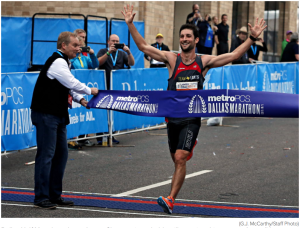 He will be sticking around for a bit to answer any of your questions about running or about sports related injuries.
About Logan Sherman
Dr. Logan Sherman graduated from Parker University in August 2013. Logan is passionate about being a chiropractic sports practitioner and holds certifications in Chiropractic Clinical Neurology (CCN), Active Release Technique (ART), Graston Technique, and Rocktape Fascial Movement Taping (FMT 1 and 2). Dr. Sherman was born and raised in Dallas, Texas, where he competed in cross-country, track and field, and hockey for JJ Pearce High School. Upon graduation, he attended Texas A&M University, where he studied business and was a member of the TAMU varsity track team.
During his athletic career, Logan regularly received chiropractic care to maintain high performance and prevent injury. After receiving his degree in Business Administration from Texas A&M, Logan pursued a career in chiropractic sports medicine, attending Parker University where he balanced education and road racing. Logan graduated with honors from Parker University with a Doctorate in Chiropractic. While at Parker, Logan served as class president and was awarded "Who's Who" among students. He focused his studies on biomechanics and functional neurology and was selected to participate in a rotation at the Dallas Veterans Administration Hospital. His work at the VA gave him hands-on experience and an ability to help our wounded veterans, an experience he will always treasure.
In April 2013, Logan was selected to represent the city of Dallas in the Sendai International Half Marathon. Logan has continued his racing career, participating in numerous local events. In 2014, Logan was selected to participate in the USA Half Marathon Championships, and he placed first in The Cowtown Ultramarathon, The Metro PCS Dallas Half Marathon, and several other local races.
Professionally, Logan practices chiropractic sports medicine with Reagan Chirosport Center in Dallas and McKinney. You can also find Dr. Sherman volunteering with Luke's Locker and other local running groups, as well as blogging on Facebook, communicating his passion for promoting and living a healthy lifestyle.
We are simply delighted to have Logan Sherman join us on Wednesday, December 31st for our annual run.  Please sign up and donate today.